Fleshlight Girl Misty Stone
The deliciously dark sexy Misty Stone has arrived and is ready to satisfy all your chocolate erotic fantasies. With her striking natural beauty, gorgeous smile, and killer body, it's no wonder she's become the top African American adult star in the business. Misty's film career has exploded with the huge success of adult parodies including "This Aint Avatar XXX", "Not The Cosby Show XXX," and the upcoming "The Flintstones: A XXX Parody." Good sex comedies.
CARE about sextoy:
To clean your Fleshlight, simply rinse your removable Fleshlight sleeve with warm water from your sink and allow time for it to dry before storing. Do NOT use soap to clean your Real Feel Superskin sleeve. For tough cleaning, we suggest using a little isopropyl alcohol. To maintain that soft feel, sprinkle a liberal amount of corn starch on the sleeve and shake off the excess powder. We do NOT recommend the use of talcum or baby powder.
I have not given up hope to buy this device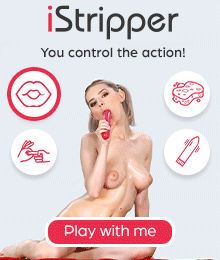 You might also like sexy girls and sex toys below